H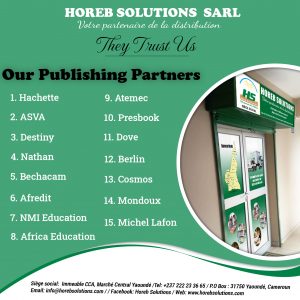 oreb Solutions is just about 2 years old but its efforts in putting its footprints in the distribution sector in Cameroon are laudable. Its administration is working tirelessly to position Horeb as the most reliable bridge between publishers and booksellers and a force to reckon with. Its major goal is to make sure publishers get their products to consumers within the required time and booksellers get all they need in one purchase.
It saves time, energy, and finances when a client can get all he wants in one purchase. With the 2021/2022 school year already in force, bookstores can now, in a single purchase, acquire all approved textbooks. We live in a fast-paced world and the ability to identify and seize opportunities like this one is a priceless asset for both publishers and booksellers.
New but not inexperienced; Horeb Solutions has taken giants steps that have generated trust and assurance both from publishers and booksellers. Found in Horeb warehouses are sufficient stock of books from more than 15 publishers. With over 270 booksellers on its client list, Horeb is well on its way to becoming a one-stop-shop and a vantage point for the distribution sector in Cameroon.